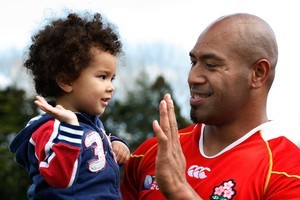 Are you celebrating the World Cup?

Young Kiwis were turning Japanese yesterday as the national team took time out to sign autographs and greet spectators at an open training session.
It was high-fives all round as imposing centre Alisi Tupuailai greeted Max Henry, 3, of Stanmore Bay, while Takehisa Usuzuki signed young fans' printed bandanas.
Youngsters were able to watch the team at a public training session at Silverdale Rugby Club yesterday morning.
The team arrived last Wednesday, led by their coach, All Black great John Kirwan, who said it was good to be home.
Japan has its first pool match this Saturday against France at Auckland's North Harbour Stadium.
Kirwan is set to go head-to-head against his old team, the All Blacks, next Friday in Hamilton.