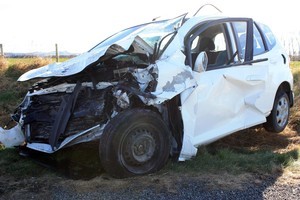 A man involved in a car crash that killed financier Allan Hubbard was driving home early from a trip away so he could surprise his family.
Andy Earl, 40, was driving to Nelson on Friday when his ute collided with a car carrying Mr Hubbard, 83, and driven by his wife Jean, 82, about 5km north of Oamaru.
Mr Hubbard died on the way to hospital. Mrs Hubbard and Mr Earl are recovering from their injuries. Mr Earl was able to speak to Mr Hubbard before he died, and to Mrs Hubbard, after the accident, his wife Janelle told the Herald.
Mr Earl had been in Otago for a week and was due back at the weekend. He decided to drive home earlier to surprise his wife and six children, Mrs Earl said.
She said Mr Earl had no memory of the collision, but called her from the crash scene to let her know what had happened. He was not initially aware who was in the other car. "He was just really concerned about the other people."
Mrs Earl said she and her husband only knew the Hubbards as they had been portrayed in the media.
"We have always seen them as really kind people. They just seemed such down-to-earth, lovely people."
Mrs Earl did not want to disclose what her husband said to Mr and Mrs Hubbard following the accident.
Mr Earl, subsequently discharged from hospital, had a cut to his head, and was still suffering from a "really sore" chest after arriving back at his home yesterday. Mrs Earl was planning to take him back to hospital for further assessment.
"It's just all very surreal at the moment," she said.
The Herald understands Mrs Hubbard has cracked ribs and is still in Dunedin Hospital, where she may remain for a few more days. Police are investigating the crash.
Mr Hubbard's death comes just over a year after the collapse of South Canterbury Finance, the business he developed into what was once New Zealand's largest finance company.
The Government decided in June last year to place Mr Hubbard and his business interests under statutory management during a Serious Fraud Office investigation.
South Canterbury's receivership on August 31 last year triggered a record bailout under the Government's deposit guarantee scheme, giving $1.7 billion of taxpayers' money to 35,000 investors.
Mr Hubbard was to have appeared in the Timaru District Court next month to face Serious Fraud Office charges of 50 fraud and related offences.
His lawyer Mike Heron said he would now be presumed innocent of the 50 serious fraud charges and related offences laid against him.
He said the criminal charges against Mr Hubbard will be formally stayed by the court.
Crown Law Office lawyers and officials met yesterday after Commerce Minister Simon Power called a meeting before a Cabinet briefing today.
His spokesman Brent Webling said statutory managers were working with the family and their advisers "to make sure they have everything they need at this difficult time".