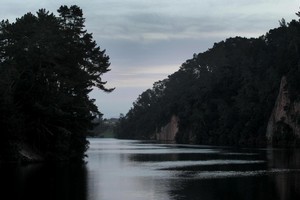 Volunteers have found new clues in the search on Lake Arapuni for two missing Waikato fishermen.
Jordan Pooley and James Roberts have been missing since Sunday, last weekend.
Fellow sport fisherman Butch Bisley set out with three friends from Tokoroa on Friday to join the search on the remote lake north of Taupo. "We actually found a few things that could have been of interest, '' Bisley said.
On Friday night, volunteers found dog footprints and fragments of rope about 8km south of Jones Landing, where the missing men were last seen a week ago.
Roberts, 45, and Pooley, 21, had taken Roberts' pet collie with them. When the dishevelled dog arrived at Roberts' Pukeatua home on Wednesday night without her owner, police were contacted. Bisley hoped the dog's footprints would help police, boaties and the Coastguard narrow the search area for the first time.
A volunteer helicopter pilot also flew in from Cambridge on Friday. Bisley said the pilot reported seeing an oil slick on the lake, another possible clue to Pooley and Roberts' location.
Bisley said the mood among searchers was grim.
"I think it's sort of sunk in now that the chances of finding them are pretty remote. If they had got to shore, then probably within half an hour they would have found someone.''
However, Robert's employer Chris Holmes said there was still hope of finding the pair. "It's such a terrible bloody place to search. Personally I don't think if they're on the surface at present, they're in the weeds.''
Holmes said Roberts was a private person. "He was either working or liked to have one or two people over for a meal."
Roberts emigrated to New Zealand from England four years ago for a fresh start after his marriage ended.

Pooley is a Putaruru College old boy who recently moved to Tokoroa, where he works as a stock handler. Apart from fishing, his hobbies also include goat hunting.
As well as boaties searching the lake, a foot search was underway, with police and volunteers scouring the remote lake's coastline. Bisley said there hadn't been a search operation on this scale at Lake Arapuni for at least 25 years.
He said boaties and fishermen formed a tight community.
"Whenever anyone's in trouble we try to help. You'd like to think if you were in trouble, someone would do it for you."
Bisley said concerned volunteers had travelled from Tirau, Mangakino and Tirau to join the search.
Pooley and Roberts were last seen in a 3-metre long white boat with a blue stripe and Yamaha motor. Police are still looking for anyone who saw the men.
- Herald on Sunday/APNZ