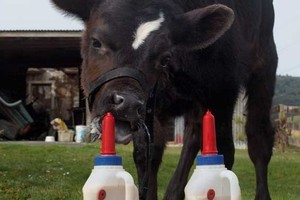 Richie McCow has channelled the nation and is backing black to beat the Wallabies this weekend.
Presented with two bottles of milk marked with New Zealand and Australia flags, the World Cup talisman yesterday ignored that udder lot to pick the ABs for the game in Brisbane.
But the match could be close, with McCow's owner, Kyle Underwood, saying the month-old calf chewed over his choice for some time.
He said it wasn't the easiest job getting the young Friesian cross to pick a team. "But as you can see, we got a result ... and he picked the All Blacks so hopefully they win.
"I'll definitely be on the edge of my seat the whole game, that's for sure."
Mr Underwood says there was slightly more milk in the All Black bottle before the calf made his choice.
The All Blacks have been made favourites by the bookies putting odds of a New Zealand victory at $1.42, with the Aussies at $2.70.
The match is a warm-up for McCow's starring role at the World Cup, when the Herald will use him to predict outcomes of the All Black matches.
Sadly, McCow won't be able to milk a win this weekend - "I don't think he could get any more spoiled than he already is," Mr Underwood said.
All black, except for a silver fern on his forehead, McCow was the cream of the crop from the day he was born.
The young bull has quickly gained a following and has 500 "likes" on his Facebook page.
A victory this weekend will ensure the All Blacks win the Tri-Nations. Now Richie McCaw needs to ensure it's a case of "you beauty" rather than "dairy, dairy me".