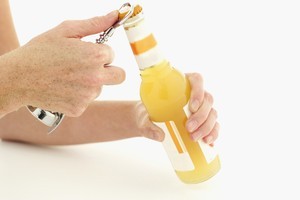 A crackdown on teen-friendly alcoholic drinks could be torpedoed by free trade agreements which allow Australian firms to sell whatever they want here - as long as it's legal there.
The Government's alcohol reform package includes restrictions on ready-to-drink products, which it sees as especially harmful to young drinkers.
RTDs can be as high as 20 per cent in alcohol content and are sold in up to 3-litre containers.
Research has found that 14- to 24-year-olds are the most frequent drinkers of RTDs, but it is inconclusive on whether RTDs contribute to people starting to drink at a younger age.
The Government wants to restrict RTDs to a maximum alcohol content of 5 per cent, and no more than 1.5 standard drinks per product.
But the alcohol industry is considering ignoring any regulation through the Transtasman Mutual Recognition Arrangement, which states goods produced in or imported into Australia can be sold here.
"There is no need to circumvent anything - that's the bilateral trade agreement signed by both Governments," said Thomas Chin, chief executive of the Distilled Spirits Association of NZ.
Similarly, any ministerial ban on alcohol novelty products - such as vodka mouthwash or alcoholic chocolate milk - could be ignored under trade laws.
"That is one of the key flaws in the policy proposal. All it would mean is that [the restrictions] would apply only to New Zealand manufacturers," Mr Chin said.
Stephen Riden, spokesman for the Distilled Spirits Industry Council of Australia, said any restrictions would conflict with "a long-standing trade agreement with New Zealand's biggest trading partner".
"I would have thought, given [the furore in] Australia with New Zealand apples, that New Zealand would be the last country in the world trying to break trade agreements."
Massey University professor Sally Casswell, a social and health outcomes researcher, said health advocates had recommended tobacco and alcohol be excluded from trade deals.
"Sweden didn't want to sell RTDs and they had to under free trade rules, but France and Sweden were able to put in place restrictions on marketing despite a challenge in the European Court.
"There is also a chilling effect, so while it never becomes very public, the [alcohol] industry is threatening [behind the scenes]. Not all the objections necessarily progress to a formal challenge - but they may affect the Government's resolve."
A spokeswoman for Justice Minister Simon Power said the minister was aware of the issue.
She said it was still the Government's intention to introduce restrictions next year, and officials were working on how to implement them - including the impact on trade deals.
Meanwhile, the Alcohol Reform Bill was reported back to Parliament from a select committee yesterday.
Its major provisions were mostly unchanged, including a split purchase age for alcohol of 18 in bars and 20 in supermarkets.
PRE-MIX FIX
* Sweet, pre-mixed drinks that can be up to 20 per cent alcohol content sold in up to 3-litre casks, including pina coladas, cosmopolitans and gin and tonics.
* The Government wants to restrict RTDs to a maximum alcohol content of 5 per cent, and no more than 1.5 standard drinks per product.
* The alcohol industry says any restriction would be meaningless as any product legally sold in Australia can be sold in New Zealand under free trade laws.