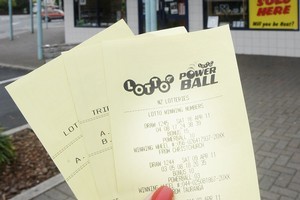 It wasn't until he was asked to go out the back of the lotto shop where he was checking his ticket that an Auckland man thought he might have won more than a bonus line.
The man from an "average Kiwi family" was the second to collect a share of $12 million from last weekend's Powerball $24 million prize.
The other winner was a man from the small Bay of Plenty town of Murupara, 65km southeast of Rotorua.
The Auckland man, who wishes to remain anonymous, said he was struggling to make ends meet with mortgage and rising costs.
"My first phone call after the money goes into my account will be to the bank to pay off our mortgage.
"Financial freedom is all anybody dreams about, so it is still sinking in that my dream has come true."
He had no plans to quit his day job just yet.
"We do plan to help out family and support our kids' education for their futures," he said.
The two lucky winners have won $11,853,233 from Powerball and $200,000 from their share of Lotto first division.
- NZPA