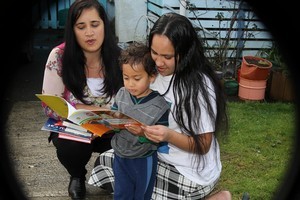 Don't be surprised if someone thrusts a free book in your hand in the next few days - on condition that you pass it on once you've read it.
Literacy tutors and New Zealand Post are giving away 2250 "travelling books" at supermarkets, workplaces and other venues around the country with labels saying, "Enjoy the book, then pass it on."
"It's a fun way of trying to get people into reading," said Bronwyn Yates of Literacy Aotearoa.
Papakura 7-year-old Viola Nicholls, who normally borrows books from a community house near her home, was delighted to get two brand-new books by local authors - Cuzzies Find the Rainbow's End by Tom Kapai and Jonah's First Day by Feana Tu'akoi.
"The only new books she gets from school are Duffy books at prizegivings," said her mother, Judy Nicholls, who finally got her learner driver's licence last year with help from the He Waka Matauranga adult literacy service in Auckland.
Around the corner, 3-year-old Kal-El Ngauora immediately took his books on to an enclosed trampoline to read. His mother, Kara Hetaraka, 23, has also just got her learner licence through He Waka Matauranga.
The idea originated in Nelson several years ago where the local adult learning manager, Marian Richards, adapted an American scheme.
Books donated by the Nelson public were distributed to people who might not otherwise get them in pubs, workplace cafeterias, buses and tramping huts.
ON THE WEB