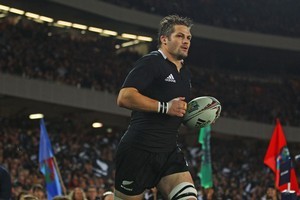 The All Black captain's girlfriend is defending the cost of adidas jerseys, while adidas refuses to budge over the the product's wholesale price.
Nicola Grigg, Richie McCaw's girlfriend, said complaining about the adidas jersey cost was like refusing to buy a costly Louis Vuitton bag.
"Why the hell shd @adidas change it's prices??" Grigg said on her Twitter page. "It's like me telling Louis V I won't buy their bags anymore bcos they're too $$$."
A Louis Vuitton bag costs between $570 and $5802. The two All Black adidas jerseys retail at $149.50 and $170 in New Zealand.
By 5pm, the Twitter page seemed to have disappeared.
Ms Grigg did not return the Herald's calls last night.
She joins the New Zealand Rugby Union in standing by the global brand, opposing calls from the Prime Minister, fans, and rugby greats for the giant German sports gear maker to cut prices. The jerseys are cheaper overseas.
In Auckland last night, John Key could not resist the topic.
The Prime Minister's opening line at a SkyCity function was: "If you're having a bad day, don't worry - adidas is having a worse one!"
Meanwhile, New Zealanders once again have access to two overseas websites selling cheap jerseys that were temporarily blocked by adidas this week.
The global websites removed New Zealand as a shipping option on Monday.
The move followed comments by the company's New Zealand manager, David Huggett, last Friday that adidas was looking to enforce cross-border agreements to stop overseas retailers selling to Kiwis.
But consumers eager to buy the jerseys for US$80 ($97.40) will have to wait until after the tournament has started.
The website is only taking pre-orders, scheduled to be delivered in late September.
The British-based website rugbystore.co.uk is also listing the jerseys as sold out.
Mr Huggett yesterday answered critics, ending a three-day run of communication through press releases.
He said that while he apologised and heard the "frustrations" of fans, the company would not drop the cost price of the jersey.
"We believe that that recommended retail price was ... fair and reasonable."
When asked by the Herald why adidas did not take the financial hit and cut the jersey price to keep the loyalty of its customers and retailers, he said: "I guess there is a balance here between saying we're in a position to cut costs and then just not invest in anything in this country for the next 12 months.
"And I think if consumers thought that suddenly they're getting a cheaper All Blacks jersey but then adidas wouldn't invest any money into New Zealand, the question I'd ask is that really what they want of us as a brand?"
He said the sponsorship cost counted as a marketing cost that was factored into the final wholesale price of the jerseys.
The past 11 days had been "one of the toughest in [his] career", he said, and he would handle the PR debacle differently if he could, and would not have blocked the website delivery to New Zealand.
He said the company had developed a marketing and PR strategy to regain the confidence of Kiwis.
Adidas had a profitable first half of this year. The company reported that wholesale revenues across the globe were up 13 per cent and net sales for Asian markets (including New Zealand) were over $1.6 billion.
Rebel Sports and Briscoes group managing director Rod Duke met the sports brand's Australasian head, Greg Kerr, yesterday. He said Mr Kerr did not apologise, and he left the meeting "disappointed".
Mr Duke said he would look at ordering less adidas winter 2012 stock in two months' time if customers were still angry at the brand.
After adidas' public apology and the return of a New Zealand shipping option, fans remain divided. While one Facebook "Boycott adidas" group has called off its campaign, 14 other boycott pages remain.