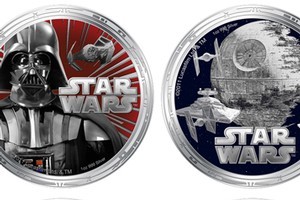 Star Wars fans will soon have a new force to use, but it comes with a hefty price tag.
A legal tender coin set is being released featuring characters from the movie series.
New Zealand Mint has been commissioned to manufacture the coins, but they'll only be able to be used legally in Niue.
The first coins to be released are scheduled for launch in August in Chicago, and will include eight 1oz silver coins and 10 Silver Plated base metal coins depicting Star Wars characters.
Further releases are planned every year until 2014.
Each coin will be $2 legal tender in Niue, however if you're after a set of four you might want to save up your $2 coins as it will set you back NZ$469.
- Newstalk ZB