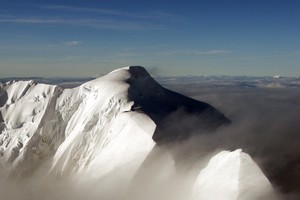 The south ridge of Aoraki Mt Cook will be renamed Hillary Ridge in a tribute to iconic New Zealand mountaineer Sir Edmund Hillary, Government has confirmed.
The New Zealand Geographic Board's suggested last November that the ridge be renamed in honour of Sir Edmund.
Its proposal prompted 109 public submissions - 57 in favour and 52 against.
Land Information Minister Maurice Williamson today confirmed the board's recommendation as an "appropriate" tribute to a great New Zealander.
"Sir Edmund made an enormous contribution to our country and abroad and it is befitting and appropriate that his contribution is acknowledged in this way.
"Sir Edmund was a much admired and respected climber and mountaineer, not only in New Zealand but in many other parts of the world."
"Altering the name South Ridge to Hillary Ridge will further cement Sir Edmund's place in New Zealand's history."
In May 1953, Sir Edmund and sherpa Tenzing Norgay became the first climbers to reach the summit of the world's highest peak Mt Everest.
Five years before that, a party of four including Sir Edmund was the first to make a successful ascent of the South Ridge in February 1948.
The three other climbers were guides Harry Ayres and Mick Sullivan who both led the climb, and Ruth Adams.
Mr Williamson said he had respect for those climbers' achievements.
"My decision was made with the greatest respect to these three other accomplished climbers and their families."
The Hillary Ridge name change is set to be confirmed by the Geographic Board on August 18.