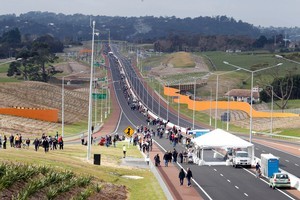 The first cars graced Auckland's newest motorway at Hobsonville this morning - six months ahead of schedule.
Prime Minister John Key officially opened the motorway yesterday morning and thousands of people had the chance to walk and cycle the highway.
Contractors worked through the night to complete the final touches to the $220 million project.
New Zealand transport says commuters should expect delays as people come to grips with the new routes.
- NEWSTALK ZB