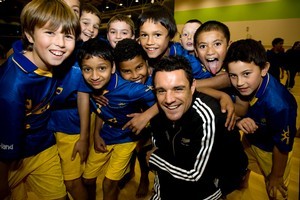 The All Blacks squad took time out of their training schedule to meet their supporters at an All Blacks Fan Day at the Waitakere Trusts Stadium in West Auckland yesterday evening.
Earlier in the day, it was announced that the team would split up and visit more rural towns on September 2, the Friday before the Rugby World Cup starts.
Captain Richie McCaw said it was a good opportunity to meet Kiwis who would not normally be able to see the team and make them feel included in their cup crusade.
"I know all the guys are all quite excited about it, but I think it's going to be good before the World Cup to have the guys go out and see people that don't usually go to the All Blacks. I know it's going to be pretty important to have that support base.
"It's a wee chance to go back and say thanks, I guess."
McCaw posed for photographs with his young fans while others practised their kicking and dodging with the players.
Kayla Ranson, from Whenuapai, had her autograph card filled up with her idols' signatures and proudly had a black fern painted across her cheek.
The best part of the 11-year-old's day was being teased by Conrad Smith for wearing a soccer uniform. But it was her only black jersey.
Primary Rippa Rugby teams from across Auckland were each assigned an All Black to coach them during a tournament. Daniel Carter forced Summerland Primary's team to warm up with sit-ups and lunges.
Josiah Brown, 11, was "stoked" to be coached by Carter, his favourite player, and said it made him up his game. He said he watched every game because he wants to be on the team and play wing.
Carter said it was "pretty cool" being able to meet his young fans and to give something back.
"I remember when I was their age, I wish there had been this where you could meet or talk or play with the team - it's quite cool."
His team lost their first match to Ranui Primary - coached by Sonny Bill Williams.