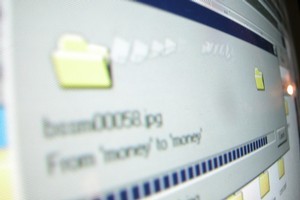 The worst illegal downloaders are likely to escape detection under a new law against internet piracy.
From September 1 entertainment companies will be able to catch downloaders by posing on the internet as other file sharers and then recording details of each item they send to the downloader's computer.
Anyone caught can face a series of warning letters and a fine of up to $15,000.
The law is intended to tackle New Zealand's high internet piracy rate, which is estimated at more than 10,000 illegally downloaded songs, movies and TV programmes a day.
However, the most prolific offenders are expected to sidestep the new restrictions easily by hiding their true web address or using services which can evade detection.
Two regular downloaders who spoke to the Weekend Herald anonymously said they would not get caught.
One said he would use a United States-based proxy server, which hides the downloader's real IP address and is easy to install. The other said he would use software which identified spy computers and refused to share files with them.
Technology blogger Thomas Beagle, who runs Tech Liberty NZ, agreed both techniques were likely to work. He said many downloaders would also avoid detection on sites such as Rapidshare, which did not use peer-to-peer file sharing.
He thought the law would have a similar effect to DVD region codes, which were meant to control where a disc could be played but could be avoided with the right software.
"They don't actually stop anyone, they just slow it down."
Sony Pictures general manager Andrew Cornwell acknowledged that some of the worst offenders would probably not be caught but said the law's real purpose was public education.
"The whole thrust of it is aimed at middle New Zealand who might do the occasional download."
New Zealand Federation Against Copyright Theft (NZFact) executive director Tony Eaton said the system would target new hit films, such as the Harry Potter franchise.
Asked if regular downloaders could use technology to sidestep the law, he said the industry still had other options, such as going to court.
A 2008 survey for NZFact found almost one in three 15- to 30-year-olds admitted watching films online without paying. A 2005 study commissioned by the Motion Picture Association estimated the film and TV industry lost a quarter of potential sales - $70 million a year - to piracy.
However, a Treasury report on the new law said international studies suggested lost sales could range from none to 20 per cent for music and 2 to 9 per cent for film and television.
The report predicted the law would lead to between 1000 and 2400 prosecutions a year.
The Motion Picture Association won a legal victory in Britain this week, with a High Court decision forcing British Telecom to block access to a site containing links to illegal downloads.