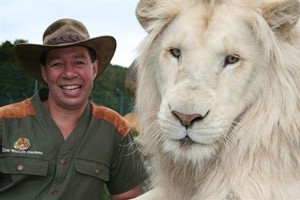 A court injunction is being drafted to save the big cats at Whangarei's Zion Wildlife Gardens, after receivers moved in to take control of the Northland park today, the current operator says.
Patricia Busch said she fears for the welfare of some of the 36 cats housed at the reserve, and has contacted lawyers to help.
"If the receivers now move in, the cats will be separated, some will be sold overseas, some will be re-housed and for those that cannot, will be put down," Mrs Busch said.
"These animals are like our family and we know that we can keep breeding these endangered cats. It is such a shame that New Zealand will lose possibly one of the greatest big cat breeding facilities on earth today, simply because of a series of deeply unfortunate and tragic events."
Mrs Busch, 70, fears the collection of breeding pairs and big cat family groups will be lost, and sold off to other zoos.
She was also concerned that some animals might die, and others might be put down, because there was nowhere to house them.
Zion has one of the largest collections of endangered big cat species in Australasia and the largest in New Zealand, she said.
But the park's income had been drastically reduced due to the ongoing litigation between Mrs Busch and her son "Lion Man" Craig Busch, and a series of events including the end of the wildlife encounters, and the tragic death of a keeper Dalu Mncube.
Zion pleaded guilty in court last month to failing to protect Mr Mncube.
"This park was not only my son Craig's life work, it has become the families' life work. Thousands of hours have been spent on this vision of a haven for Bengal tigers and a breeding programme, we have achieved the impossible only to see it being destroyed before our very eyes.
"I despair to see this happening to the cats. I want New Zealand to help me save the cats," Mrs Busch said.
Her barrister Vijay Narayan told NZPA Mrs Busch wanted legal help with the welfare of the animals.
"We agreed to act on that basis. We're not particularly interested in the commercial issues. There are around 300-400 Bengal tigers left in the world. "There's also a rare species of lion called the Barbary lion which is virtually extinct. So this facility is not just a park. It's a facility which can breed these animals for future genetic stock.
"Many of these animals were hand reared by the family so they have a connection, which is much deeper than a wild animal. That's why they've been able to be bred in captivity. So this facility is unique to the world, and especially to New Zealand and Northland, and it would be a tragedy to break it up.
"When there were problems with the park, MAF (Ministry of Agriculture and Forestry) was going to exterminate all the animals but the family was able to stop that happening.
"So we're going to apply for an injunction to stop the bank and the receivers from taking control over the animals. We're not concerned about the land or the park, we just want to ensure the animals can stay protected.
"At the same time, we want to ask the New Zealand government and the New Zealand people to help establish a park for the future using a charitable trust, to create a safe environment for these animals," Mr Narayan said.
He expected the injunction would be submitted to the High Court at Whangarei within a week.
Colin McCloy and David Bridgman, partners at PwC, have been appointed receivers of Zion Wildlife Gardens.
"We are committed to doing the best we can for the welfare of the wildlife. As a result we are working closely with an independent zoo expert, who is not related to any prior operator. This is to ensure the current welfare and containment standards of the animals at Zion Wildlife Gardens are maintained," Mr McCloy said.
The receivers were also working closely with MAF, he said.
Craig Busch is currently in South Africa and was unavailable for comment.