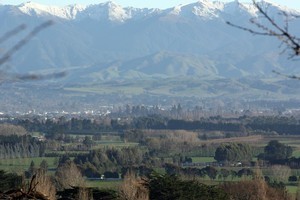 Horowhenua land search and rescue volunteers are guiding a Kapiti Coast couple to safety after they bad weather trapped them in a Tararua Crossing hut.
Sergeant Noel Bigwood said the couple, aged 20 and 30, started the crossing from Otaki Forks to Carterton on Tuesday.
However, gale force winds and snow forced them to hole up in Kime Hut.
"Concern was raised (yesterday) due to fears involving the future weather, the couple running short of gas and food, plus a lack of equipment and skill to evacuate themselves in the conditions," Mr Bigwood said.
Police contacted the couple on their cellphone and a team of three Horowhenua Land SAR volunteers was flown into the area and dropped about two hours' walk from Kime hut this afternoon.
They were guiding the couple back to Otaki Forks, he said.
- NZPA