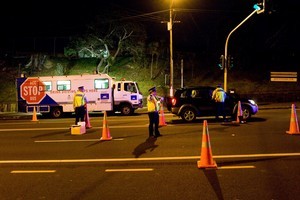 A drink-driver was caught in a lie when she was seen driving only 15 minutes after she told a Wellington District Court judge she had taken a bus to court.
Angela Olsen, 44, was fined $500 and disqualified from driving from six months when she appeared for sentence after being convicted of driving with a breath alcohol reading of 969 micrograms, the legal limit is 400, The Dominion Post reported.
During sentencing Judge Carrie Wainwright asked if she had driven to court and Olsen replied that she had taken the bus.
After organising the payment of her fine she was seen getting into her car by a police officer who recognised her.
She was arrested and was expected to be charged with driving while disqualified.
- NZPA