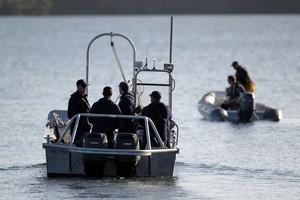 The body of a diver who went missing in North Shore's Lake Pupeke on Friday has been found.
Daniel Waata Stoneham, 33, of south Auckland, disappeared while on a training programme with an instructor and six other students.
The exercise also ended in the death of another student, 37-year-old Tyron North, and the injury of a third student.
Mr Stoneham's body was found in 53 metre-deep water about 100 metres from the shore on the southern side of the lake, police said.
The body was taken to Auckland Mortuary where an autopsy was expected to be carried out tomorrow.
Mr Stoneham's family had been holding vigil on the shore while specialist police and navy divers scoured the murky lake.
"We cant grieve until we've got the body," said brother-n-law Riki Taniwha last night.
Taniwha paid tribute to Stoneham, adding that he was desperate to "get ticketed" as a qualified diver.
"He loved the water and to dive and to fish. He wanted to go deep-sea diving. He wanted to get ticketed and progress into a [diving] career.
He was one of the best, humble. He'd do anything for you. Kind, giving and loving.
"For our side of the family it hasn't really sunk in at home."
North Shore police spokesman Kevin Loughlin told NZPA the police divers were aided by the latest equipment, including sonar, as they worked in the challenging environment.
Mr Stoneham and Mr North were part of a training dive team from Tauranga-based outdoor education provider Adventure Education.
The company's general manager Sharon Sutherland said earlier the company was "shocked and deeply saddened by the tragedy''.
"This is a very difficult time for everyone involved. Our focus right now is on supporting the friends and family of these two men.''
The dive group were attending an Adventure Education course run by South Auckland company Helix Training Ltd.
Helix had cancelled its courses in Auckland next week, but would keep its office open to offer support to those involved.
Ms Sutherland said the divers were nearing the end of their programmes, which ran four-five months, and were working towards their tertiary diving qualifications.
Police expressed their condolences to the families and friends of the two deceased divers and thanked local residents and others who helped with the search.
The Department of Labour and Police are investigating.
- NZPA / HERALD ON SUNDAY