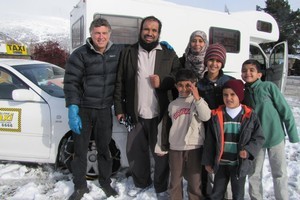 A Northland woman escaped unhurt when a tornado ripped part of the roof of her house early today.
The tornado ripped a 75-metre swathe of destruction through Kaiwaka, 62km south of Whangarei about 1am, tearing off half the woman's roof, leaving the other half intact.
Firemen headed to the house were greeted by insulation batts and other debris flung about by the wind, Kaiwaka chief fire officer John Bowman.
"I have never seen it (damage) quite as bad in a house."
Power to the house was down after the wires were ripped out of the meter box.
His crew helped the woman moved furniture from the damaged side of the house to the undamaged side, where it was protected from the weather.
Firefighters also covered the house with tarpaulins.
"It is part of our job to help people," he said.
He said the woman was distressed but her sense of humour did not desert her.
"She said she had never had so many men in her bedroom before," Mr Bowman said.