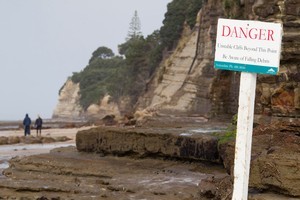 Erosion caused by residents' stormwater drain runoff was not behind a fatal rockfall at an Auckland cliffline, a geotechnical report has found.
Inna Rudyy-Collie, 44, died after being struck by falling rocks while walking her two dogs on Rothesay Bay beach on Saturday.
Auckland Council checked drainage at 40 clifftop properties and asked for reports on the stability of the area in the wake of her death.
A Tonkin and Taylor geotechnical report released today said rockfall danger had "always existed" in the area around Rothesay Bay.
It found no evidence to suggest erosion caused by water discharged from stormwater drains in the cliffs had caused the fatal fall.
Weak rock was widespread throughout the East Coast Bays and measures to shield the public from danger along its seaside cliffs would be difficult to implement, it said.
"The recent accident is indeed tragic and to our knowledge is the first known fatality of its type in Auckland. The coastline is used by people at mid to low tide, and the measures required to secure the public from injury from rockfall right up to the foot of the cliff would be extensive, expensive and difficult to construct."
Tonkin and Taylor recommended putting up signage warning walkers of the "minor" danger posed by the cliffs.
Auckland Council spokesman Glyn Walters said many of the old North Shore City Council rockfall warning signs had fallen down or been vandalised.
Officers were putting up new signs and council was considering an information campaign informing residents of the danger.
Hibiscus and Bays local board last night passed a resolution offering its condolences to Ms Rudyy-Collie's family and calling for a public awareness campaign on the rockfall danger in East Coast Bays
Council chief operating officer Patricia Reade earlier urged beachgoers to stay 10m from the cliff, especially at high tide when walker were forced closer to the face.
While the rockfall was typical of the natural erosion on Auckland's east coast, the council is considering a wider investigation of the city's cliff-faces after the accident.
Auckland's east coast cliffs have been eroding at a rate of two to six a century for the past 10,000 years.
This is a much faster rate than the west coast, where erosion is negligible in comparison.
The east coast erosion is partly due to increased development, but also the geological conditions - most of the cliff-face is made of soft and brittle sandstone and mudstone.
- Additional reporting by Isaac Davidson