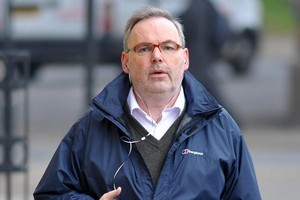 New Zealander Felicity Drumm, the intended victim of Malcolm Webster's murderous plans, is delighted with the 30-year jail sentence handed down to her former husband by a Scottish court overnight.
Webster was jailed for life with a minimum non-parole period of 30 years in the High Court at Edinburgh for murdering his first wife, Claire Morris, in England in 1994 and trying to murder his second wife, Ms Drumm, in Takapuna, Auckland, in 1999.
The judge Lord Bannatyne, said the murder of Morris was "cold blooded, brutal and callous" and pre-meditated.
Claire Morris died after Webster drugged her and staged a car crash, later telling police he swerved off the road as he tried to avoid a motorcyclist. He claimed more than $400,000 from her life insurance policy.
He tried the same tactics on Ms Drumm who was pregnant when he drugged her and staged a car crash. She recovered but he fled with $140,000 from her bank account. He also planned to claim more than $1.5 million in life insurance.
In a statement released by her sister Jane Drumm today, Felicity Drumm said she was delighted with the long jail term and non-parole period.
"The jail term and long parole period reflects not only the seriousness of this crime but his potential to re-offend.
"After many years of thinking Malcolm may escape justice for taking Claire Morris' life together with his offending against me, the guilty verdict and sentence are hugely validating and serve to bring closure to this chapter in my life," she said.
"My thoughts and best wishes go out to the Morris family and to Simone Banerjee."
Webster tried to marry Ms Banerjee in Oban while he was still married to Ms Drumm.
"My family and I are most appreciative of the commitment and hard work demonstrated by both the New Zealand and the Grampian police who together with the Scottish procurator fiscal's office helped bring this case to trial."
She said she also wanted to acknowledge the judge and jury's efforts throughout what was a "very demanding court process."
Ms Banerjee, who was in court for the sentencing, said she was "very pleased" with the sentence and felt "very lucky to be alive."
Prosecutor Derek Ogg QC, told the jury Webster was one of Scotland's most notorious murderers but Webster's lawyer Edgar Prais QC, insisted he was innocent but admitted he was a thief, a liar, a philanderer and a ratbag.
Webster quilty of other crimes
Webster was also found guilty of a range of crimes stretching over a 14-year period, from 1994 to 2008, including theft, fraud and attempted bigamy.

Lindsey Miller, Head of the Serious and Organised Crime Division, said: "A vast amount of painstaking work went into this investigation and prosecution.

"Webster was a calculating criminal who wove a web of lies and deceit around people who entered his life in good faith.

"Today, my thoughts are with the families and friends of his victims."