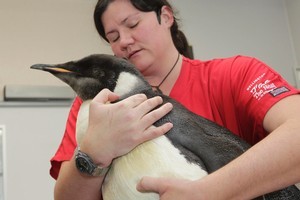 Happy Feet the emperor penguin is to undergo another stomach flushing procedure at Wellington Zoo tomorrow.
Zoo spokeswoman Kate Baker said the procedure will be the same as one undertaken last Saturday where, similar to a stomach pumping procedure, water is pumped in through the mouth to extract the remaining sand in the penguin's stomach.
Another x-ray may also be taken tomorrow, Ms Baker said.
The penguin will be able to be viewed by the public at The Nest - Te Kohanga while the procedure is undertaken.
The zoo estimated the penguin will cost around $10,000 to look after, based on an eight week stay, Ms Baker said.
"That's covering feeding it, medical care, air conditioning - we've rented an air-conditioning unit, extra power, things like that. We are actually fundraising to cover that cost.
"Of course if it stays longer it could cost more."
Ms Baker said the zoo has been receiving donations since the bird arrived.
Around half of the medical procedures at The Nest are wildlife emergencies such as Happy Feet, with the remainder on the zoo's captive exotic animals.
Ms Baker said it is still not known whether the penguin is male or female as the zoo is still awaiting the results of DNA tests.
Donations can also be made to the zoo to help support the team caring for Happy Feet here.
- HERALD ONLINE