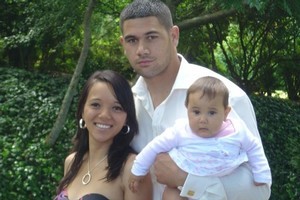 Super 15 rugby star Kurtis Haiu made a appearance in court this morning facing charges of assaulting a woman and a male property developer.
The 26-year-old Blues lock, who has been undergoing treatment for cancer, is accused of assaulting property developer Glenn Cooper and assaulting Kirsten St George in Karaka, south Auckland, on May 12. He is also charged with possessing a hammer.
The alleged attacks happened after reports Haiu lost money in a property deal involving Mr Cooper.
Haiu, who once sported long locks of black hair, was bald when he appeared in Pukekohe District Court this morning.
His lawyer, Richard Earwaker, requested the case be adjourned until next month as the police officer in charge was sick so the matter was unable to be resolved.
Haiu was remanded to reappear in court on July 20.
Haiu, who was supported by his wife Frieda, did not speak to reporters outside the court other than to say his treatment was continuing.
He has a cancerous tumour on his ribs and is expected to be out from rugby for at least a year.
He has played 53 super rugby matches.
- NZPA