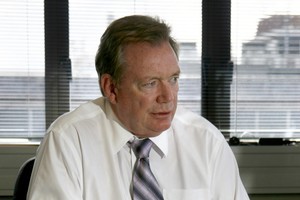 Under-fire employers association boss Alasdair Thompson has held onto his job in the wake of an emergency board meeting on his future this afternoon.
Calls to sack Mr Thompson as the chief executive of the Employers and Manufacturers Association have grown since he said women's "monthly sick problems" affected their work productivity last week.
The association met to discuss the "crisis" resulting from the comments this morning, with some reports suggesting Mr Thompson would resign.
But EMA board chairman Graham Mountfort this afternoon said there had been no decision on Mr Thompson's future.
He said the meeting was part of an ongoing process and another statement would be made "in due course".
"We are following a sound and thorough process as a responsible employer must."
Mr Mountfort said the EMA board rejected any suggestion gender plays a role in workplace productivity.
"The EMA Board totally supports New Zealand women achieving to the highest levels in our boardrooms, management and at all levels in our workplaces."
EMA communications manager Gilbert Peterson this morning said he could not confirm the reports that Mr Thompson was going to resign but said the association met this morning to discuss how the EMA was going to continue to function.
"It [the meeting] was about...how EMA is going to run and what we are going do to make it work in this interim period of what for us is a bit of a crisis...it's more than a bit of a crisis, it's a crisis."
Prime Minister John Key said the ball was in the EMA's court.
"They run their own organisation and will understand whether it's in their interests or not."
The board cancelled a meeting on Mr Thompson's future yesterday and said a decision would be made within a a week.
But last night board member Laurie Margrain said he expected an answer within 24 hours.
Two apologies from Mr Thompson have failed to quell the furore over his remarks, particularly as he was unable to back up his claims with facts.
The latest display of displeasure can be found on Facebook, where Mr Thompson's recent actions have inspired The Alasdair Thompson Women's Monthly Day Off, with the event calling for women to take Thursday off and spend the day in bed to highlight "what has been said about the gender pay equity gap".
By 4pm today, the event had more than 8800 attendees.
- HERALD ONLINE