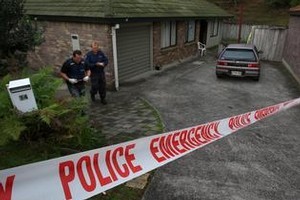 A couple suffered serious injuries when they were brutally beaten in a home invasion in Tauranga overnight.
The man and woman were asleep in the garage of their McClymont Pl home when they woke to a male attacking them with what police believe may have been a crowbar about 3.12am.
Detective Sergeant Eddie Lyttle today told the Bay of Plenty Times the attacker demanded money from the pair and when they refused he quickly fled from the cul-de-sac on foot.
The 54-year-old man suffered a head fracture and a brain bleed and was this morning in Waikato Hospital in a stable condition.
The 32-year-old woman was treated at Tauranga Hospital for a head injury.
Mr Lyttle said the attacker ran up McClymont Pl into 20th Ave, and then through a park between Twentieth Ave and Ninetineth Ave where he may have got into a vehicle.
The property in the quiet cul-de-sac was cordoned off as police carried out a scene examination at the two-storey home this morning.
Mr Lyttle said there were two other people in the house.
"They were unaware of what was going on at the time," he said.
"It was over really quickly once they refused and he pretty much ran away.
"It's a very serious assault."
Mr Lyttle said police had not recovered the weapon used to attack the pair and said it may have been discarded on a property or garden in the area.
A nearby resident said he woke to the disruption and an ambulance arrived about half an hour later.
He said it reversed down the driveway at the property but did he did not think anyone was taken away in it.
The concerned resident said a woman, who had recently undergone surgery, lived in the Housing Corporation house with her daughter and brother.
Other distressed residents were concerned when they woke this morning to find police cars in the street.
The attacker is described as possibly Maori, aged 18 to 25, 1.8m tall, medium to large build wearing a light-coloured hooded coat which came down to his mid-thigh.
"It's not nice to wake up and look out your window and see that," one woman said.
Police are asking anyone with any information regarding this attack to call Tauranga Police on (07) 577 4300 or call 0800 CRIMESTOPPERS.
For more articles from this region, go to Bay of Plenty Times