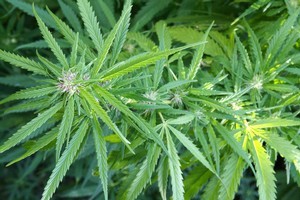 My fellow columnist, Garth George, hopes he's no longer around if and when drugs are legalised.
This creates a dilemma since I want Garth to keep having his inimitable say into grand, combative old age. On the other hand, I'd like to see sanity prevail sooner rather than later in the way we deal with recreational drugs.
Neither of us should lose sleep. Even if Garth turns out to be a modern Methuselah, in all likelihood the current approach will be persisted with until even those who have made an art form of seeing only what they want to see will no longer be able to ignore the consequences.
The resolute opposition to any backsliding on prohibition is understandable: these substances have wrecked many young lives and our first instinct is to deny our children the opportunity to succumb to temptation. It is, however, based on flawed assumptions.
The first is that prohibition works. Statistics suggest the opposite: to take one example, production in the United States of marijuana has increased ten-fold during the past 25 years, making it America's most valuable cash crop, worth more than corn and wheat combined. For all I know the same is true of Northland.
Interdiction, prohibition's pincer movement, is even less successful. The Mexican border town of Ciudad Juarez is one of the most heavily policed places on earth, yet it remains the prime entry point for narcotics smuggled into the US.
Afghanistan is pumping out more heroin and hashish than ever, despite the presence of a Western occupying army, and jails around the world are awash with drugs. If we can't keep drugs out of jails, how do we expect to keep them out of the suburbs?
Prohibitionists regard this as a defeatist attitude, arguing that legalisation would only make a bad situation far worse. This view is based on a touching faith in the deterrent effect of the criminal code and a deeply pessimistic assessment of human nature.
Drugs are so readily available and there's so little legal risk attached to their use that those who want to take them do so. The vast majority chooses not to. You have to have a pretty dim view of your fellow men and women to believe the only thing stopping them going through life in a druggy haze is that it's against the law.
Zero tolerance is as misguided and unworldly as the term itself would suggest. The police simply don't have the resources to investigate, process and prosecute the victimless crimes of individual consumers.
Laws that aren't enforced, or are enforced in a random, half-hearted manner, are not taken seriously, something that those urging a change in the drinking age should bear in mind. Courts in the Netherlands have thrown out prosecutions of drug users on the grounds that because the law is so seldom enforced, the public is entitled to assume it's for appearance's sake only.
This is the usual fate of attempts to legislate morality. They almost always end in repeal.
Only fools and fanatics believe that coercion or any other approach will eliminate the use of narcotics. The challenge is to find the most effective approach in terms of limiting the damage to individuals and to society. A meaningful audit must take into account the social and economic consequences of effectively allowing organised crime to take over the drugs industry.
(Putting forward the case for legalisation in the Herald this week, former MP and drug squad detective Ross Meurant estimated that 50 per cent of crime in this country is drug related.)
There's the example of Portugal where decriminalisation has resulted in sharp drops in overdose deaths and cases of HIV contracted from dirty needles. There's the example of tobacco where education has brought about a decline in use and respectability.
The anti-smoking campaign has had success because it demonstrated that smoking is not in our best interests. You might think that's axiomatic when it comes to narcotics and over-use of alcohol, but some people take a lot of persuading. Human beings are fond of mood-altering substances and there will always be those who decide that the high is worth the risk.
As things stand, the criminally inclined perceive that it's in their best interests to be in the drug business. Why wouldn't they? The product sells itself so it doesn't need to be advertised; it's illegal so prices are artificially high, and they don't have to worry about quality control or health regulations; transactions and profits aren't subject to tax so it's enormously profitable.
The road to hell is indeed paved with good intentions. Those who don't believe we're on that road should ask themselves why organised crime loves the status quo, while police officers here and overseas increasingly question it.