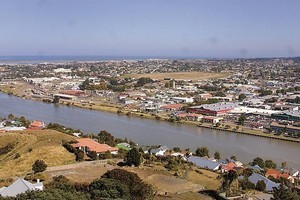 A man who drove his car into the Whanganui River killing his sister and his two-year-old nephew has been jailed for six years.
Donovan James Matenga Tuirirangi, 39, pleaded guilty in the High Court at Wanganui to the manslaughter of mother-of-six Frances Rachel Tekaawa, 38, and her son, Duane Richard Pauro.
Two boys, aged 13 and 16, were also injured in the crash, which happened last December 12.
The court was told that Tuirirangi lost control of his car after pursuing a ute through Wangaui at an estimated speed of at least 100km/h in a 50km/h zone, the Wanganui Chronicle reported.
The car slid across the road and plunged 12m into the Whanganui River.
The teens escaped through open windows, while Ms Tekaawa's body was pulled from the vehicle about 20 minutes after the crash.
The body of Duane, who was wearing an adult seatbelt, was later found by the police dive squad.
Tuirirangi had 12 previous convictions, including dangerous driving, driving under the influence, and failing to stop.
- NZPA