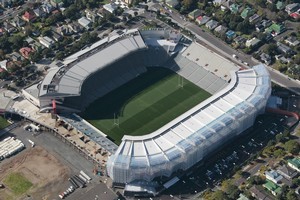 The security company hired to help patrol the Rugby World Cup is fighting a claim for $2 million, including $757,000 owed to one of the Cup's major sponsors, ANZ Bank.
Darien Rush Security is also disputing $660,000 owed to Inland Revenue and $615,000 to four other creditors, according to public documents.
ANZ National Bank is working with a liquidator to recover its debt after Darien Rush Security bought the business of Strategic Security for $2.5 million in April last year and then decided not to pay, claiming misrepresentation.
Strategic Security was placed in liquidation in September last year, but not before Darien Rush Security took over its contract at Eden Park.
A report by the liquidator, Indepth Forensic, said Mr Rush had provided limited information concerning the dispute.
Last night, the security company said it had purchased the business assets of Strategic Security but not the company and therefore had no liability for the debts to ANZ National Bank, Inland Revenue and others.
Darien Rush Security plans to double its staff from 800 to 1500 to patrol the Rugby World Cup in Auckland. The company will be responsible for getting people to and from train stations and around the stadiums smoothly, screening potential trouble-makers and showing a friendly face to World Cup visitors.
Eden Park chief executive David Kennedy said he was aware of financial issues between Darien Rush Security and Strategic Security, "but it is not something we are involved with".
Mr Kennedy said Darien Rush Security had taken over a contract held by Strategic Security last year and Eden Park was happy with the performance of the contractor.
A source told the Herald that the Auckland Council, which has budgeted to spend $500,000 on security for the Rugby World Cup, had received a risk report on doing business with Darien Rush Security.
The council did not respond to questions yesterday about the issue and whether ratepayers' money was at risk.