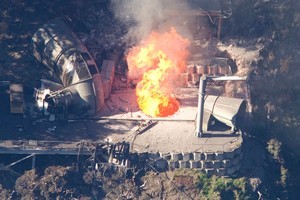 Prime Minister John Key has been criticised for saying the Pike River mine in which 29 people died last year could not have been legally operated in Australia.
But yesterday he sought to clarify that this did not necessarily mean New Zealand mining safety standards were inferior to those in Australia.
In an interview with the Australian newspaper, Mr Key said the Pike River mine would have been illegal in Australia, and he expected changes to safety standards in New Zealand mines after the royal commission of inquiry into the disaster.
This seemed to contradict his comments in the days after the mine explosions, when he said he had "no reason to believe New Zealand's safety standards are any less than Australia's".
Yesterday Mr Key distanced himself from the suggestion that New Zealand had lower safety standards than Australia. They were "different", he said.
But Labour leader Phil Goff accused Mr Key of flip-flopping.
"It's a total about-face by the Prime Minister. He was saying that our standards were at least as high as Australia's before, and that it was dangerous to speculate about mine safety ahead of the royal commission. But now he's doing it himself.
"It's hard to understand why Mr Key is saying this to an Australian newspaper when he hasn't talked to the New Zealand families."
But Mr Key distinguished between construction and safety rules and said Pike River would not have been granted a consent in Australia for several reasons, including that it was a single-entry mine.
"From a construction perspective, that mine would not be consented in Australia... From a safety standard perspective, that's a matter for the royal commission to say whether they think there are proposed changes or whether there's a necessary need for changes in safety standards in New Zealand."
He said safety rules for New Zealand mines were as good as in Australia "to the best of my knowledge... but that's why we have a royal commission of inquiry to go and have a look at these things".
Pike River families spokesman Bernie Monk said regulations needed to be improved immediately.
"Talking to some of the old mines inspectors, I can see where mistakes have been made and changes desperately need to be made."
The Engineering, Manufacturing and Printing Union, which represents miners, also called for action on mining safety.
"Now we know that the Government has identified problems with safety standards, we can act now to fix them," said EPMU national secretary Andrew Little.
"We don't need to wait for the royal commission's decision and we can spare the families further pain and suffering."
An independent audit, issued last month, into New Zealand's four coal mines found no imminent safety threat at any of the mines.
But it found the health and safety systems at the smaller mines - Roa and Burkes Creek - were not fully compliant, and all four mines could improve health and safety systems.