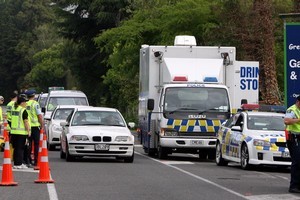 Wairarapa motorists will be breath tested every time they are pulled over, police are warning.
Police staff across the Wairarapa had been instructed to breath test every motorist stopped, in the lead up to and during the Rugby World Cup, acting Wairarapa area commander Detective Inspector Paul Basham said today.
"We're taking this approach in the hope of preventing trauma on our roads and want to warn motorists that any time of the day or night, no matter where you may be travelling within the Wairarapa, if you're stopped, you will be breath-tested and those caught will be dealt with accordingly."
Motorists planning on having a few drinks must have a safe alternative to getting home and not drive, Mr Basham said.
- NZPA