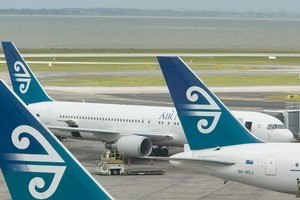 An engine reaction similar to a car backfiring forced an Air New Zealand Boeing 767 into an emergency landing yesterday, an investigation has revealed.
The aircraft had just taken off from Auckland for Perth with 206 passengers on board at about 2pm yesterday when the pilot made an emergency call to air traffic controllers, saying he had problems with the port engine.
Passengers described flames and smoke coming from the engine, saying there were several loud bangs.
A full emergency was declared and police and fire crews rushed to meet the plane, which landed safely without further problems.
It was initially believed bird strike had caused the problem, but that has been ruled out by the investigation results delivered today.
Air New Zealand chief pilot Captain David Morgan said the emergency was the result of a problem with airflow to the left engine after take-off.
It caused the "flare" seen from the rear of the engine, he said.
"The change in the airflow in the engine created a similar reaction to that of a car backfiring.
"The investigation has established no evidence of bird strike as a cause for the disruption to airflow and no damage to the engine itself."
The plane's engine returned to full power when pilots reduced thrust after the airflow problem, an Air New Zealand statement said.
Pilots then shut down the engine and returned to the airport, it said.
Captain Morgan said the unit responsible for controlling airflow to the engine had been removed and would be sent to its manufacturer GE Aircraft Engines for testing.
"We have replaced the unit and will now undertake engine tests in conjunction with the engine manufacturer."
Air New Zealand passenger Lorna Trass said the incident was terrifying.
"There were flashes of light which looked like lightning, then we heard three big bangs on the wing of the plane and it was shaking a bit," she said.
"It was terrifying. A flight attendant got on the intercom and said with a very, very shaky voice - she seemed very nervous - that something had happened to one of the engines."
Passengers from the flight were accommodated in hotels before flying out on another aircraft at 1am this morning, Air New Zealand said.
They have since arrived safely in Perth.
- Herald Online