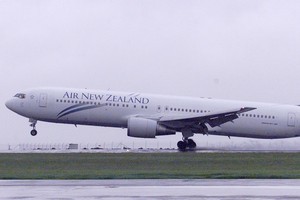 Passengers on an Air New Zealand flight which made an emergency landing on one engine in Auckland yesterday were never in danger, an experienced pilot says.
Stuart Julian, technical director of the Airline Pilots' Association and a 767 pilot, said the twin-engined Air New Zealand Boeing 767-300 was designed to take off and land on one engine.
The aircraft had just taken off from Auckland for Perth about 2pm yesterday when the pilot made an emergency call to air traffic controllers, saying he had problems with the port engine.
The problem was believed to have been caused by a bird strike but Air New Zealand said that had yet to be confirmed.
The plane was nearly full, with 206 passengers and 10 crew.
Passengers described flames and smoke coming from the engine, saying there were several loud bangs.
The pilot immediately returned to Auckland and made a safe landing on one engine.
Mr Julian said any modern jet was designed to take off and land with one engine out of action.
"Pilots train to fly with one engine not working."
There would be some drop in the performance of the aircraft if one engine failed, he said.
"But even with that smaller amount of performance with just one engine, that is enough to cover all the safety margins."
He said every takeoff included a plan for an engine failure and every six months a pilot would practise an engine failure.
"It is not a big deal for us. It is what we train for and what we practise," he said.
- NZPA