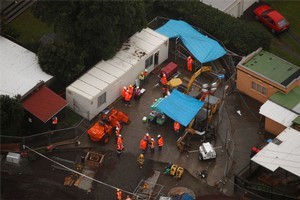 A 48-year-old Auckland woman was killed in an underground gas explosion in Auckland this morning, police say.
The explosion, which left six others injured, happened as contractors were working to connect a new watermain to an existing one at the intersection of Mt Smart Rd, Victoria St and Athens Rd in Onehunga, Watercare Services chief executive Mark Ford said.
District commander for Auckland City superintendent George Fraser said gas levels remained high in the area.
"The cause of the explosion is still unclear and gas levels remain high, restricting access to the area.
"Emergency services remain at the scene and air is being pumped into the space in an effort to make it safe so that a thorough scene examination can be carried out and to enable the maintenance work to continue as scheduled," Mr Fraser said.
He said emergency services would be investigating how the explosion occurred through the night.
Watercare this afternoon urged Auckland residents to conserve water as a precaution.
A Watercare spokeswoman told NZPA they were waiting for the go ahead from the Fire Service before resuming work on the pipes.
Ambulance officers initially said they had reports of three dead but police and St John staff said they had since confirmed only one was dead.
Fire Service assistant area commander Wayne Highet said there were seven confirmed casualties from the blast - one of which was a fatality.
Everyone who had been near the explosion site was now accounted for "one way or another", he said.
Auckland DHB communications manager Mark Fenwick said one of the injured had undergone surgery and was recuperating, while two others had been transferred out of the emergency department and three more had been discharged.
One man was believed to have lost limbs.
Mt Smart Rd resident Raymond Tema, 21, said safety gear and helmets were lying scattered on the street after the blast.
He said he saw a body being carried out, as well as a survivor "with no legs and one arm".
Mr Highet said gas must have been ignited to have created such a large blast.
The explosion happened in a Watercare Services tunnel soon after 8am where a large, new watermain was being connected to an existing watermain near Victoria and Mt Smart Roads.
HEB Construction contractors had been cutting pipes in preparation for the connection and had been about to change shifts after a 2am start.
The new watermain, called Hunua 4, would eventually run from the Redoubt North Reservoir in Manukau to Market Rd in Epsom, connecting to the local water supply network at various points along the way.
Watercare said it chose this weekend to make the connection because there would be less traffic and less demand for water over the three-day period.
Gas unidentified, but not toxic
Auckland fire acting area commander Steve Lakin said seven specialist appliances were sent to the area.
"After we made the scene safe and realising it had been a fatal accident, the Fire Service, along with the other emergency services, made an effort to enter the tunnel to determine the state of play.
"We entered the tunnel with gas detection equipment and found that there were explosive limits of gases inside the tunnel.
"At this stage we are unaware of what those gases are likely to be, other than the explosive limits are beyond our normal safe procedures."
They were working to make sure the area was safe and the gas was reduced inside the tunnel so they could go back inside for another inspection, Mr Lakin said. Gas detection equipment was on the site.
"We can't determine what that gas is because we can't get to where we need to be.
"All we can do at the moment is go through a process of elimination to make sure that the services in and around the area, such as electricity and gas, have been isolated and we are then working with the technicians on site from the relevant companies to determine what the gases are," he said.
"The gas levels are low and are non-toxic but they have levels of flammability.
The 1.5km pipe was about 3m underground and was 2.5m in diameter, allowing people to walk into it before the diameter reduced. Emergency personnel got as far as they could into the pipe during the rescue mission, Mr Lakin said.
They planned to flood the pipe with material to reduce the risk of another explosion but first needed to establish what the gas was.
Streets around the site remain cordoned off.
Watercare chief executive Mark Ford said the company was working closely with authorities but could not yet say what had caused the explosion.
"It is with deep sadness that I confirm there was a serious incident at the site. This is a very dark hour for us - many of the crew on site are like family to us, and my heart goes out to all of those affected by what has happened," Mr Ford said.
Contractors working around the clock
Victoria St resident Sam Pohiva said his house was just metres from the hole blasted out by the explosion.
His family was woken up by what sounded like heavy machinery crashing down at 8am.
Soon after, he saw two mud-covered workers emerge from the ground.
Another dead worker was stretchered out of the hole by emergency services and covered with a sheet, he said.
He held fears for the safety of a missing worker, who had been working on the site for around four months.
"We were woken by the massive explosion. We thought they must have cut into a gas pipe.
"There were two guys climbing out covered with mud and s**t. Then the next one was stretchered out."
Men at the site had told him they were working 24-hour rotations, Mr Pohiva said.
They were intending to finish the project in July, he said.
Another local resident told nzherald.co.nz he had spoken to one of the site workers 10 days ago, who said it was a "nightmare" job which had taken longer than it should have.
Jamie Minchin, an Onehunga resident and construction worker - although not on the Watercare site - said the volcanic rock in the area hindered ground work.
He said that about eight years ago, the ground simply gave way under a digger at the Tongan Methodist Church on Grey St.
Residents woken by shaking
Residents of nearby Athens Rd, Grey St and Trafalgar St reported feeling the ground shake.
Lisa Hennessy and her fiance were woken around 8am when they felt their windows shaking.
"My fiance was in Christchurch in February when the earthquake struck and he said that the sound we heard was very similar to what he heard before the ground started shaking."
Marnie Burke said the explosion happened right outside her house.
"These workmen have been working outside our house for the last 4.5 months and we've got to know a couple of them well. It's simply terrible."
Another man who worked in the area said he heard the explosion and thought something had dropped from one of the cranes being used in the construction.
"It was a very big bang," he said.

View Onehunga explosion in a larger map