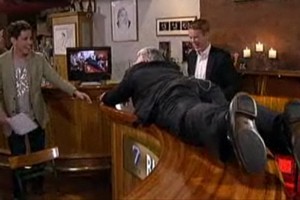 United Future leader Peter Dunne "planked" on television last night in yet another election year attention-grabbing stunt from an MP who has previously cultivated an overtly sensible image.
Appearing on TVNZ7's Back Benches programme, spurred on by the audience chanting his name, Mr Dunne obliged a viewer's request to "plank" by clambering onto a table to assume a prone position.
While planking has been blamed for at least one death, Mr Dunne completed the act safely - with the assistance of host Wallace Chapman.
Mr Dunne's plank comes a few days after a photo showing Prime Minister John Key's son 15-year-old son Max performing the internet craze while Mr Key stood behind him was posted on the Planking New Zealand Facebook page.
Last month, Mr Dunne posted a video on the internet in which he made light of what he said was the media's fixation with his hair.
Mr Dunne's hair is frequently remarked on both for its volume and shape which he says is maintained without product and merely with the use of a comb.