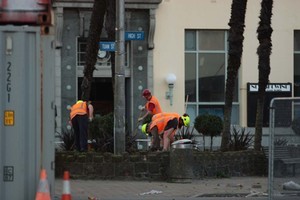 There's anger this morning at photos showing council workers tending to a garden in Christchurch's red zone.
The pictures show six workers tending to a plot outside Alice in Videoland on the corner of High and Tuam Streets.
The photographer, who doesn't want to be identified, says while it's encouraging to see some normality in the red zone, the area is still off-limits to business owners so the situation's somewhat surreal.
Public Relations consultant David Lynch, who is acting for a number of red zone business owners, says the area is unlikely to be opened to the public for at least a year and business owners are becoming more frustrated at the lack of access.
However, the area where the gardening was seen taking place is the latest area which will be opened to the public tomorrow when the cordon around the CBD is reduced. See the new cordon zone here.
- Newstalk ZB