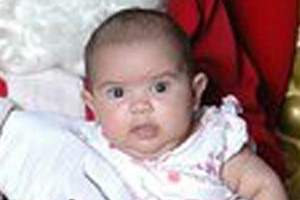 Police investigating the violent death of a six-month-old baby in Ngaruawahia, north of Hamilton, have again appealed for help to find her killer.
Serenity Jay Scott-Dinnington died in Auckland's Starship Hospital last month.
Police said her fatal head injuries were not accidental and medical staff had told relatives the injuries were similar to shaken-baby syndrome.
Detective Senior Sergeant Mark Green, officer in charge of the investigation, today said police remained committed to finding out who was responsible for Serenity's death.
"We've been building up a picture of what has occurred by speaking to doctors and nurses who treated Serenity at Waikato and Starship Hospitals after she suffered her injuries," he said.
"As this is continuing we are awaiting the results of further forensic tests carried out during the post-mortem examination."
Mr Green said he was still keen to hear from anyone with information about Serenity's death.
"As time goes on, a person's situation and allegiances may change, and information not previously available comes to light. If you are in such a situation I would encourage you to come forward. Your call will be treated in confidence.
"We owe it to this little girl to bring those responsible to justice."
Police yesterday rejected allegations there was an "anti-nark culture" in the town, despite residents saying they have been targeted for standing up against child abuse.
- NZPA