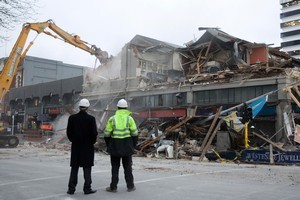 Demolition companies working in the Christchurch CBD have dismissed suggestions crews should be working seven days a week.
After a brief visit to the city, international agency Architecture for Humanity chief executive Cameron Sinclair yesterday told the Sunday Star-Times he was shocked at the slow pace of deconstruction work in the quake-damaged city's centre.
Mr Sinclair, who helped with rebuilding New Orleans after Hurricane Katrina, said the city could not afford to take weekends off when there were so many buildings that needed to come down before any reconstruction work could begin.
Around 1000 buildings in central Christchurch have been identified as needing to be demolished.
However Southern Demolition director Alan Edge said the comments were ridiculous.
"You can't work men seven days," he told The Press. "Whoever said they should be working seven days is ridiculous.
People have families and life outside work."
Mr Edge said his 30 staff were working 10 and a half hours each day, and some buildings can only be worked on during daylight hours.
Another company, Auckland-based Nikau Contractors had 20 staff in Christchurch, with more on the way, and were working seven days where possible, operations manager John Paul Stil told The Press.
Christchurch Mayor Bob Parker told TV3's Firstline many delays had been caused by some insurers and building owners, not demolition companies and contractors, or the Canterbury Earthquake Recovery Authority.
"We think that the clock is starting to tick away a little bit," he said. "We would be getting concerned if momentum doesn't building in the weeks ahead.
"I haven't seen any evidence that CERA are sitting on their hands."
- Herald Online, NZPA