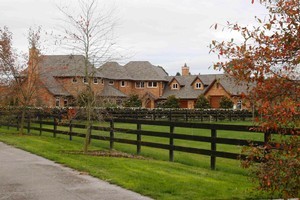 He lives in one of the Waikato's most ostentatious mansions - complete with an enormous swimming pool, a hydroslide and a floodlit tennis court - but some locals always wondered how an average kind of guy could ever afford such riches.
The reasons became clear when accountant Gary William Soffe appeared in the Hamilton District Court yesterday. The 52-year-old admitted stealing almost $4 million over four years.
One man, who asked not to be named, said he knew Soffe when he owned a smaller home also in the neighbourhood. He sold the house several years ago before moving to his property at Woodcock Rd, which he has never invited his old friend to.
"He moved into a far bigger house that needed a lot of expensive work and everyone started asking, 'How can an accountant like him make that much money?'
"It seemed strange but I guess we know why now. We knew then that he handled a few family trusts."
Soffe pleaded guilty to nine charges of theft by a person in a special relationship - formerly known as theft as a servant - and one charge of false accounting and obtaining by deception.
He administered a number of trusts, all linked to one family, but stole about $4 million from them with the bulk of the transactions happening between 2006 and 2010.
The news did not surprise some Tamahere locals who yesterday questioned how a regular guy working in an "average" Frankton office could ever afford a lavish mansion, a few kilometres south of Hamilton.
One associate said he helped with the construction of the 745sq m house, which has a medieval-themed wine cellar, five bedrooms, three bathrooms and solar underfloor heating.
The associate said he went to Soffe's Frankton office, which now has for lease signs over its windows, and thought his workplace was "pretty average".
"There were only three people working there and it wasn't anything flash - but his place we were working on was. The funny part about it was we all kind of wondered how he had so much money. He just seemed like a regular guy and the only comment we would make was, 'Wow, I wish I could do whatever he is doing because he's doing pretty well'."
The man said at least five carpenters were on the site at any one time and the house would have taken a year to build. The lavish home is now for sale.
Defence counsel Warren Scotter said earlier reports that Soffe had stolen $6 million were "wildly inaccurate". But although court documents do not clearly show whether Soffe lavished the proceeds of his crime on his property, they revealed that his offending totalled $4 million. Among these was the false accounting charge, which relates to a sum of $1.2 million taken from an estate.
Mr Scotter said Soffe had co-operated fully with forensic investigators who made inquiries on behalf of the family trust. He said Soffe would be able to pay reparation. Community magistrate Susan Hovell suppressed the identities of the trust and family members involved.
The Stuff website reported that several of Soffe's properties had been transferred to the trust including the Tamahere mansion, where he lives with his wife.
Records show that Soffe paid $380,000 for the land in 2003. Soffe is still listed as the owner of the property but the mortgage is with the family trust. It was also reported that Soffe transferred a Whangamata beach house to the trust. Its asking price is now $1.25 million.
Soffe has also transferred a $1 million Mt Maunganui apartment and Mt Wellington commercial property to the trust, which reportedly has tens of millions of dollars in farming and commercial property interests in the Waikato and Auckland.
It is understood a complaint has been laid with the Institute of Chartered Accountants. Soffe was remanded on bail and ordered to surrender his passport. He will reappear at the Hamilton District Court on July 21.