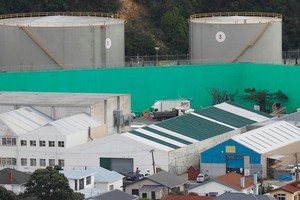 One man remains in hospital and another has returned to work on the Hobbit after an "explosion" at the studios where the movies are being filmed.
Fire Service spokesman David Meikle said it was called to the explosion at Stone St Studios in Miramar at 11.24am.
Two people were treated at the scene and taken to hospital by ambulance, he said.
One man remained in hospital for observation and was expected to be released in the next few hours, while the other had returned to work, The Hobbit unit publicist Ceris Price said.
The incident happened in one of the workshops when "a couple of the guys" were drilling a statue, Ms Price said earlier today.
The pair were left with "mild burns but nothing serious" and were taken to hospital as a precaution, she said.
"One of them had some burnt nostril hairs and, apparently if that's the case, there is always the risk of inhalation so they get checked out."
She said calling the incident an explosion was a "slight overstatement" and no fire was caused by the incident.
The Department of Labour had carried out an investigation into the incident with no further action expected, Ms Price said.
- NZPA