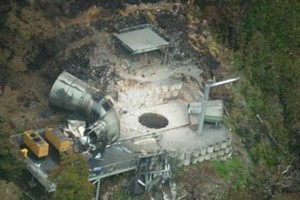 Families of the 29 men killed at the Pike River mine say the Mines Rescue service has agreed to enter the mine.
Families spokesman Bernie Monk said tonight that stablisation work would start on the seam on the main portal on May 30, eventually moving to the rockfall, so the mine would be safe to re-enter to recover the bodies of the men.
It could take until the end of July to get to the rockfall, he told Radio New Zealand.
Hundreds of thousands of dollars will still be needed to fund a feasibility study to consider the best method for entering the mine and recovering the bodies.
The families of the 29 men who lost their lives in the disaster are now looking to the government for that funding.
The Governemnt has always maintained that funding was not an issue for recovering the remains.
It was also confirmed today the receivers of Pike River Coal did not have a plan for recovery of the bodies, but the receivers have now signed an agreement with all other parties to pursue the recovery.
Neville Rockhouse, the mine's safety and training manager and father of dead miner Ben Rockhouse, says he feels vindicated in his efforts to show that there was no recovery plan in place and although the receivers were now on board, he doubted that they would commit to funding for what laid ahead.
But Mr Monk he was pleased with the progress made today and is now hopeful that the bodies of some or all of the men in the mine will eventually be recovered.
"I expect to see some of the bodies are still intact, their clothing and stuff like that."
Mines Rescue did not know how much it would cost to stage the re-entry but discussions on the cost would begin tomorrow, Mr Monk said.
However, Rod Holling, whose son Richard died in the mine, said he did not want the mine re-entered.
"We would much prefer to remember our son and brother exactly as he was the day he went to work, not what he may be now.
"What are they going to do with the bodies? Take them out of the cold, cold ground and then put them back in the cold, cold ground."
He said he would like to see the mine turned into an open cast mine, with a memorial for the men at the entrance of the access road to the mine.
- NZPA, NZ Herald staff