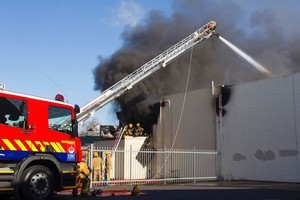 A large factory destroyed by fire yesterday could have been saved had sprinklers been installed, says a fire safety officer.
Firefighters spent the night at the Best Food Tofu factory in Elliot St, Papakura, after yesterday's fire sent clouds of black smoke billowing 200m into the sky.
Fire Safety officer Ray Coleman said today they had all but ruled out arson and an electrical fault was "high on their thinking." He said the roof cave-in had made access to the inside of the factory very unsafe and it would take some time to come up with a cause.
He said the factory was 90 per cent destroyed and probably a write-off.
"There was no sprinklers through the building. There was a heat detector. Sprinklers certainly would have helped save the day but once again it wasn't to be and in all probability the factory is probably totally lost."
The Fire Service sent 25 fire trucks and 80 firefighters to the blaze, which began shortly after 1pm.
The fire was first seen in the roof area at the back of the building by the factory owner, who immediately evacuated the six staff and called 111.
No one was injured.
- NZPA