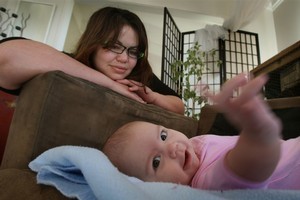 A city baby change facility covered in ash and burn marks and smelling of urine has prompted demand for a review of public toilets.
Tauranga mum Theresa O'Reilly told the Bay of Plenty Times Weekend that since the closure of the Goddards Centre toilets last month, she had struggled to find adequate facilities to change her 5-month-old baby Awhina when in town.
"I cringed as I went to the bathroom around the corner from the Baby Factory [Elizabeth St public toilets]," she said.
"The baby change table was covered in a thick layer of ash and had burn marks on it. People had been using the change table as an ash tray. The floor smelt of urine. It was disgusting."
Mrs O'Reilly called for Tauranga City Council to provide a parents' room in the city such as the one at Bayfair Shopping Centre, which is equipped with private feeding rooms, a play area, changing station, children's toilet and microwave.
"There is nowhere [in Tauranga CBD] for mothers to breastfeed unless we all hide in a toilet cubicle," Mrs O'Reilly said.
"A parents' room like those available at Bayfair is needed for parents to make trips into town less tedious."
The baby change facility at the Masonic Park toilets fared little better, with Mrs O'Reilly describing it as dirty.
The Goddards Centre, which previously provided a baby change facility, closed its public toilets in April because of the high cost of keeping the toilets clean.
Public toilets with wheelchair access and a baby change area are available in the Elizabeth St carparking building and Masonic carpark on Willow St.
Otumoetai mother of three, Bec Ansley, said she had previously used the Goddards Centre toilets and was not aware of the baby change tables in the public toilets.
She said businesses such as Starbucks had change tables "but I don't think you're supposed to use them [unless buying something] so it's really awkward".
"I pretty much try not to go to Tauranga because there really is nowhere decent [to change the baby]."
Residents vented their frustration at Tauranga's public toilets on Facebook. One woman said there were "no decent toilets in town so I just don't take my young ones there anymore".
Others identified the Elizabeth St toilets as the worst in town, with the baby change facility criticised.
"[I] think it's time we got better public toilet facilities, especially for anyone who has been to The Base public toilet [in Hamilton] - [it] makes ours look appalling."
Some said it was not the toilet facilities that were the problem, but the unhygienic habits of the people who used them.
Downtown Tauranga manager Kirby Weis said he was working with the council to establish whether there were adequate public toilets in the CBD or whether more signage and public awareness of the location of the facilities would be adequate.
"I guess the way that it could be viewed is with the removal of one public toilet in the city, is that the tipping point of we don't have enough?
"We look forward to seeing if there is a need for more, or if it's just a matter of making the public more aware of where we can have public toilets."
Mr Weis said the closure of the Goddards Centre toilets had prompted "quite a lot of feedback from the public".
All feedback and complaints were passed to the council, he said.
Mr Weis was concerned to hear criticism of the Elizabeth St toilets.
"It is a concern if the public toilets we have in the city aren't up to a good hygienic standard, and if we do have change facilities things that are not up to scratch."
Mr Weis said if there was sufficient public demand for a parenting room in the city where mothers could breastfeed, it was an issue that could be brought to the council's attention.
City council team leader of property assets, AJ Hardie, said public toilets, including the Elizabeth St facility, were cleaned twice a day - early in the morning and early to mid-afternoon - and are also checked late morning and cleaned if necessary.
"We cannot prevent people coming in between the cleaners and making a mess," Mr Hardie said.
Council was satisfied that there were enough public toilets and baby change facilities in the CBD, he said.
"There are other areas of Tauranga that do not have the same level of service regarding public toilet provision.
"Any future provision of public toilets will target these areas subject to prioritisation by council during its Ten-Year Plan process."
For more articles from this region, go to Bay of Plenty Times