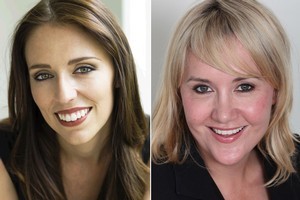 We asked Labour's Jacinda Ardern and National's Nikki Kaye: Why is the new internet file-sharing law necessary?

---
JACINDA ARDERN

I think it might be prudent to start this column with a warning: the subject matter that follows has the potential to either make your eyelids heavy or your blood boil. Either way, recent decisions around copyright are important and deserve to be aired. So here goes...
First, a bit of history: a few years back, the then Labour Government saw the need to update the laws that govern copyright. Our old laws were antiquated, but updating them also had the potential to be very difficult. On the one hand, there were calls to tighten up the penalties for unauthorized file sharing by those experiencing a loss of revenue as a result (mostly creatives). On the other side, there were those who claimed it would be impossible to police such a regime fairly and proportionately, if indeed a regime should exist at all.
There were, and are, valid cases to be made on both sides. One thing is clear; we didn't get it right in our first attempt to legislate on this issue. The definitions around illegal file sharing weren't clear and had the potential to cover more than what Parliament intended, and in addition to making internet providers judge and jury, some of the penalties just went too far. The election provided an opportunity for both sides of the house to take a second look. The result? A law which, in a nutshell, gives illegal downloaders two written warnings before they face the prospect of a fine.
You may question why such a bill needed to be rushed through Parliament under urgency by the Government. It remains a source of anger and mystery for me too. Perhaps it was an attempt to stop Government MPs from making speeches likening the internet to Skynet from The Terminator. Sadly, I'm not kidding.
I absolutely believe though that we need to support local artists, musicians and the creative industries by developing a way to deal with repeated copyright infringement, but I also acknowledge that some internet users are falling foul of the law for reasons this law doesn't fix. That's why creating a new regime has been fraught, and full of compromise. Let me share some of it.
Labour holds 42 votes in the house. National holds 58. The Government didn't need us to pass this bill; instead, we were a 'nice to have' in the form of being seen to have built cross party support. That left Labour with a pretty small bargaining chip, but there was one part of the bill we wanted to use it on. You see the Government's initial version included the penalty of terminating someone's access to the internet for repeated copyright infringement. For us, that was a something we'd come to conclude was a step too far, so we went into bat and eventually reached an agreement . Give our support to the bill and the government would ensure the 'termination clause' would essentially lie dormant. Or, we could vote against the bill in which case the provision would come into force immediately.
It reads like a pick a path book, or at least quite a dull one. Either way, the bill passes, but in one version it's more palatable. Labour chose the first option, and in many ways, the harder one. And now that we have, the focus needs to shift to making sure the regime achieves what it's meant to, and doesn't haven't the unintended consequences some have vocalised. Otherwise, we need to change it.
On reflection, perhaps then my warning for this one should have been a little different: the subject matter that follows will reveal what politics is really like sometimes - fraught, very rarely straightforward, but still incredibly important.
Jacinda Ardern is on Facebook and Twitter @jacindaardern
---
NIKKI KAYE

The internet has changed the way we communicate and live. Access to the internet through mobile phones, iPads and for many people a regular fix of social media provides us with a new type of freedom to access information faster than ever. The list of new applications is growing by the day and I can see this accelerate as more people like my nearly 3 year old nephew become digitally literate. I was watching him the other day using an iPad and I couldn't believe how quick he was at navigating between different applications.

The new opportunities that Ultra-Fast Broadband will provide to our families, our schools, our health services, our exporters and our creative industries are potentially massive. But with these new opportunities comes responsibilities and new challenges too. As lawmakers, I believe we have a duty to pass laws that balance the protection of intellectual property with the public's right to free speech and fair use.

We inherited a very draconian and unfair Copyright law drafted by the former Minister - Judith Tizard. The previous law required Internet Service Providers (ISPs) to terminate Internet accounts without evidence or a fair hearing - it was a harsh guilt upon accusation law that set up ISPs as judge, jury, and executioner. The revised law has made a number of positive changes but given the pace of technological change we have committed to reviewing the law again in two years.

Under the new rules an independent tribunal will hear any copyright infringement allegation. Alleged offenders (after three warning notices) will get the independent hearing that the old law failed to deliver. The account suspension provisions in the legislation remain controversial but could end up being an academic discussion. Those provisions can only be enacted by the Minister if the notice process and the remedies by the tribunal end up being ineffective and people continue to flout the law. Even then it would remain for courts to decide.

This legislation is all about discouraging people from illegal downloading while protecting lawfully obtained property rights. Most people respect other people's property and would not dream of taking someone else's property without their consent. The risk in not moving to give some teeth to the law is that lawmakers send a signal to copyright holders like musicians and film makers that their property rights are less important than other peoples. I remember the outrage when pirates were caught flogging off bootlegged copies of the home-grown Sione's Wedding at Auckland markets. However, this is not a rare event, some estimates show an average of 200,000 movie and television files are illegally shared in NZ each month.

We delayed the previous law to enable more than two years of consultation with internet users, ISPs, copyright owners and the public. Consultation included the formation of a working group, stakeholder meetings with officials and the Minister, a public discussion document, and the bill being sent to the Commerce select committee for consideration for six months. I acknowledge that despite the consultation, the bill's final passage under Parliament has upset people.

The real gains in the future lie in working out how creators can effectively extract value from content in a world where information is more accessible than ever. I'm convinced that making more content available online is part of the answer, so that people don't feel they have to use Bit Torrent to illegally download their favourite TV shows or movies. Increasingly we're seeing the business model for content charging shifting - from a pay-per-view recipe to the 'all you can watch' type approach. Sky TV appears to be heading more in that direction. Our free-to-air channels are growing extensive 'On Demand' libraries, and even much of our television history is available on-line these days.

While these new rules are designed to reduce copyright infringement, I'm hopeful content providers will rise to the new challenges and provide us with more accessible and more timely content - that is where the real opportunities of the future exist.
Nikki Kaye is on Facebook and Twitter @nikkikaye

---
Do you have a topic you would like Nikki Kaye and Jacinda Ardern to tackle? Email online-editor@nzherald.co.nz