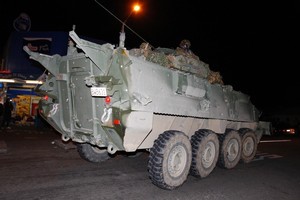 The Defence Force says it has few details on an attack on a New Zealand patrol with a home made bomb in Afghanistan.
The members of the Provincial Reconstruction Team were in a Light Armoured Vehicle (LAV) and sustained no injuries in the attack, which happened in the north eastern area of Bamyan province about 5am Afghanistan time today (about 12.30pm NZT).
The vehicle received some damage but can be recovered.
A second patrol provided assistance.
A Defence Force spokeswoman told NZPA she could not provide details such as who was responsible for the bomb or how many people were involved in the incident.
She said more information should be available tomorrow.
Earlier today, Joint Forces commander Major General Dave Gawn said the incident highlighted the value in deploying the LAV to Afghanistan as its upgraded armour protected those inside from injury.
The Defence Force sent LAVs to Afghanistan this year to protect a team working in the same area where Lieutenant Tim O'Donnell was killed last year.
Lt O'Donnell, 28, was killed in August when the lead Humvee vehicle of a convoy, which was carrying three New Zealanders and an Afghan interpreter, was caught in a bomb explosion in Bamiyan province.
The LAVs provided a mix of protected mobility, firepower and surveillance, the Defence Force says.
"We have considered other types of vehicles, but the upgraded LAV provides the optimum protected mobility, combined with other capabilities, for our troops as they go about their tasks of providing security for the civilian population," a spokesman said.
- NZPA