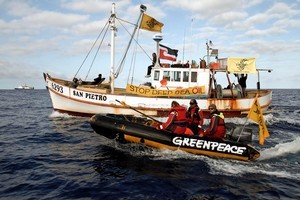 The skipper of a protest boat, set to disrupt an oil survey ship off the East Cape, has been arrested after police boarded the fishing vessel today.
The San Pietro, manned by local iwi, was stationed in front of the survey ship Orient Explorer in the Raukumara Basin, off the coast of Gisborne.
Police, who had been stationed on nearby navy ships, boarded the San Pietro from inflatable boats following grave concerns for the safety of those on board.
"This followed repeated warnings to the boat about activity it was engaged in that was causing grave concerns to the master of the Ocean Explorer," he told Fairfax media.
San Pietro captain, Elvis Teddy, was arrested and taken back to the navy warship HMNZS Taupo, and returned to Tauranga police station, a Greenpeace campaigner told NZPA.
He was charged with breaching the Maritime Transport Act.
The San Pietro also returned to Tauranga.
Last week police issued maritime notices that required protest boats to remain at least 200 metres from the two survey ships owned by Brazilian company Petrobras. Protestors faced a fine of $10,000 or up to 12 months' jail for breaching the notice.
The navy's patrol vessel and air force aircraft, including an Orion, have been working with police to monitor the protest.
Before today's arrest, tribal leader Rikirangi Gage radioed the captain of the Orient Explorer and told him he was not welcome in the waters.
"We are defending tribal waters and our rights from reckless Government policies and the threat of deep sea drilling, which our hapu have not consented to and continue to oppose"
San Pietro, is owned by East Coast iwi, Te Whanau a Apanui and is part of the flotilla including Greenpeace and the Nuclear Free Flotilla, in its third week of opposing deep sea oil drilling.
Petrobras is surveying in the Raukumara Basin to drill for oil.
The Maori Party is working on a bill that would force the Government to consult iwi before granting licences for offshore oil exploration.
Petrobras is operating under a five-year licence granted by the Government and the Maori Party, which has a support agreement with National, has been accused of not doing enough to back iwi.
- NZPA