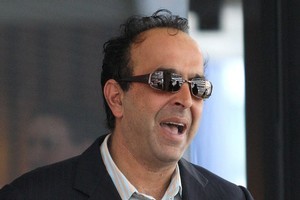 An alleged conman, who used All Blacks great Jonah Lomu's name in a $3 million fraud, has lost an application in Queensland to further delay his extradition to New Zealand by a month.
However, New Zealand authorities will have to wait a little longer to get their hands on Loizos Michaels, who is fond of referring to himself as the Phantom, as he has 15 working days to appeal.
Yesterday, his lawyer, Jim Coburn, told Southport Magistrates Court his was the third legal team to be hired by Michaels and only took his case over on March 31.
He asked for the extradition hearing to be delayed for a month to give him time to prepare his case, saying his client feared he would not get a fair trial because of the involvement in his case of the New Zealand Government, underworld figures, high-flying businessmen and adverse articles in the Herald.
Mr Coburn tendered 12 articles from the New Zealand Herald which he argued showed the depth of adverse publicity against his client and proved he would not get a fair trial in NZ.
Jeff Hunter, SC, representing the Commonwealth Director of Public Prosecutions, argued the application was made on little more than baseless assertions and a sheaf of articles.
"The respondent complains of publicity, but it's a fact serious offences attract notoriety and publicity and it would be hard to think the kind of publicity generated by this case would cause a stay of proceedings in an Australian court," he told Magistrate John Costanzo.
In refusing the application for a delay in the hearing, Mr Costanzo told Michaels he was in no different position to other cases that regularly come before Australian courts, and brushed aside concerns of adverse publicity.
"Reading the 12 articles has been quite illuminating. I too formed the view that the defendant is no different to other cases that have come before our courts such as those including gangland members, so-called bikie bandits and other notorious cases.
"The stories refer to a self-styled high flyer who has a lot of questions to answer and is drawing a lot of publicity to himself by refusing to return to New Zealand," he said.
Mr Costanzo said Michaels was facing 140 charges of fraud involving more than $3 million spread over a period from May 2007 to May 2008.
Lomu told the Herald he was duped by a proposal from Michaels to become "the global face of kickboxing" but never saw any money.
- AAP