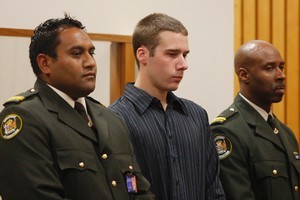 Charges have been laid against a trio who were hunting with a man when he shot a Wellington teacher at a Turangi campsite.
Andrew Mears, 26, was sentenced to two years and six months jail for the manslaughter of Rosemary Ives, 25, and ordered to pay her partner $10,000 reparation in February.
Police said they were unable to lay charges against the other men in the hunting party - who were "spotlighting" in the Kaimanawa Forest Park when Mears mistook Miss Ives for a deer and shot her while she was brushing her teeth.
But DOC today confirmed it would charge three men with breaching permits forbidding them from hunting after dark. Two of the men are 26 and the third is 18.
The maximum penalty for the offence is 12 months in jail and a $10,000 fine.
Anyone hunting on conservation land had to be issued a permit that "expressly forbade" them from hunting at night, a DOC spokesman said.
Miss Ives' mother and the New Zealand Deerstalkers' Association (NZDA) had both criticised Mears' companions and argued for charges to be laid against them.
Detective Senior Sergeant Todd Pearce said police were also in the process of revoking firearms licences held by two of the three men.