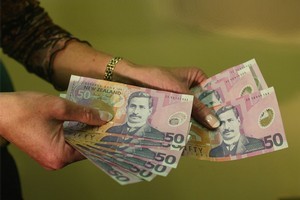 New Zealand's central bank has set up a currency swap facility with China's central bank to help trade and provide options when financial markets are disrupted.
The People's Bank of China (PBOC) and the Reserve Bank of New Zealand established a reciprocal 25 billion Chinese renminbi (RMB) ($5 billion) swap facility to support the settlement in RMB of trade transactions between New Zealand and Chinese businesses.
The facility is for three years and can be extended if both parties agree. Eight other countries, mainly in Asia, have swap facilities with the PBOC.
This gives the Reserve Bank the capacity to borrow RMB when financial market disruption makes it difficult for businesses to access RMB to settle transactions with Chinese businesses.
"While there is no need to use the facility right now, it is useful to have this capacity if markets were ever to become dysfunctional," Reserve Bank Deputy Governor Grant Spencer said.
"The signing of this swap line contributes to building the China-New Zealand relationship."
- NZPA