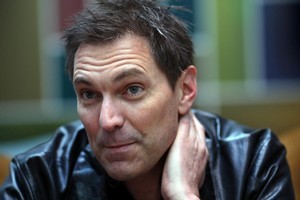 Sports broadcaster Martin Devlin will not have to appear in court tomorrow after a charge of disorderly behaviour against him was withdrawn.
The 46-year-old has completed police diversion, which is available to first-time offenders who face minor charges. This means the charge has now been dropped, a court official told NZPA.
Devlin was due to appear in the Auckland District Court tomorrow facing one charge of disorderly behaviour after an argument with his wife, TVNZ media spokeswoman Andi Brotherston, in downtown Auckland in December.
Devlin was charged after an incident in Quay St on December 29, in which he reportedly jumped on to the bonnet of his wife's car.
In a statement issued in January, Devlin said he had "no problem in admitting that I behaved like a right plum that morning".
The atmosphere had been "a little frosty" after he, his wife and two sons missed a ferry sailing because he had been watching Manchester United draw with Birmingham.
Devlin said he initially sought name suppression to protect his children from being identified and embarrassed by his behaviour.
"Obviously, the only effective way to prevent that was not to do it in the first place," he said.
- NZPA