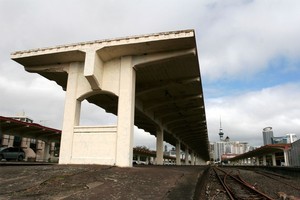 Another of Auckland's heritage sites faces the wrecker's ball. Auckland Transport is planning to demolish concrete canopies on the city's old railway station platforms - although they are listed in the top rank of the Historic Places Trust's register.
Mike Lee, an Auckland Transport board member and the Auckland Council's transport committee chairman, said any loss of the platforms would be a source of shame to officials entrusted with Auckland's heritage.
Auckland Transport communications manager Sharon Hunter said Auckland Transport was creating a temporary station in case Britomart services were disrupted during the Rugby World Cup.
"We will keep just two representative sections of the canopy on one of the five existing platforms. We will be establishing a heritage corner under the canopies with some signage panels and heritage visuals therein."
Mr Lee believed the platforms were worth restoring and keeping, and has asked Auckland Transport's chief operating officer, Fergus Gammie, what intentions the organisation had for the old rail precinct.
"I think we're all to blame for not keeping an eye on that," Mr Lee said. "We've been guilty of watching Britomart, with an eye to the new and to the future."
Full story: theaucklander.co.nz
For more articles from this region, go to The Aucklander