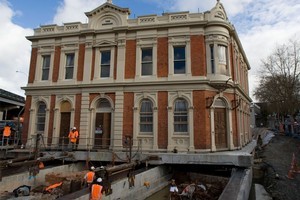 Auckland's historic Birdcage Tavern has made it back home without incident this afternoon after a two-day trip.
The Birdcage, originally known as the Rob Roy Hotel, was moved last year to allow for construction of a new Victoria Park motorway tunnel.
New Zealand Transport Agency Auckland state highways manager Tommy Parker today said the 600-tonne brick hotel had been pushed and pulled 44m by a series of hydraulic jacks.
It was now sitting on the roof of the southern portal of the new tunnel, on the same geographical location where it was built 125 years ago.
Mr Parker said NZTA and its construction partners would now refit the hotel's interior and restore water and electricity to the building.
NZTA would landscape the area around the hotel as a plaza, and, as owner, would be calling for expressions of interest for its future use.
The hotel's double move cost about $2.5m.
The $230 million Victoria Park Tunnel will take traffic north to the Harbour Bridge while the existing flyover will take traffic south.
- NZPA